TeraSi- nytt bolag inom 6G
KTH Holding has invested in TeraSi AB – a deeptech company based on many years of KTH research into micro-electromechanical systems (MEMS) and terahertz technology. The company has its vision set on 6G- the next generation of wireless technology and making scalable and cost-effective components for this. While awaiting the 6G revolution the company has started targeting other application areas such as test and measurement equipment. Based in the cleanroom facilities at KTH (The Electrum Laboratory) the company has already started delivering to first customers in niche market segments.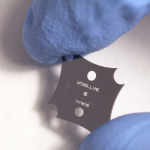 6G is set to revolutionize wireless communications and enable ever-increasing data traffic globally. This requires going to Terahertz frequencies and making smaller components that can be efficiently produced at low cost. This is exactly what TeraSi enables by producing their components using MEMS technology – the same technology used in producing smartphone accelerometers. Building on unique expertise in fabrication, design and testing the team behind TeraSi can scalably produce highly compact components and systems with unprecedented performance.
The team behind TeraSi have jointly spent more than 10 years doing their PhDs at KTH in this specific area and a first patent has been filed. Being able to themselves design and fabricate components at the microfabrication cleanroom facilities of KTH is making TeraSi one of the first commercial operators in this space. The business idea is to sell components for various applications where the first ones are in components for niche market segment such as measurement technology. The company has set a roadmap to gradually develop their technology into more complex systems and ultimately targeting the 6G market that will emerge in a number of years
"Bringing products to market isn't easy for two academics working in a clean-room. We would never have made it this far without KTH Innovation's support. KTH Holding's investment will allow us to develop new products and go to market faster than ever", says James Campion CEO of TeraSi AB.
The idea and technology behind TeraSi has been developed with the support of KTH Innovation. After having closed its first pilot customer KTH Holding has chosen to invest in the company and support their journey to the market. TeraSi has also recently been accepted to the incubator STING, one of Europe's leading business incubators and a partner to KTH for building growth companies out of KTH research spin-offs.
"This is a great example of what we want to invest in and support- a technology spun out of a top research area at KTH and also making use of the Electrum Laboratory at KTH. The long term commercial opportunity of 6G in combination with near term niche applications represents an interesting business and investment opportunity", says Daniel Carlsson, Investment manager at KTH Holding AB
About TeraSi:
TeraSi uses silicon micromachining to make precise, compact components for 6G and beyond. TeraSi provides a scalable platform for creating the next generation of wireless technology, which has the potential to revolutionize how we live our lives and interact with the world around us.
About KTH Holding:
KTH Holding invests in early stage start-up companies based on research or education at KTH. KTH Holding is part of the innovation ecosystem at KTH supporting commercialization via investments in companies and intellectual property rights. The aim is to make research, new ideas and knowledge from KTH generate a positive impact in society. The investment portfolio comprises more than 40 companies in many technology fields and development stages.